Be the first to know about contests, sales and new releases!
Military & Law enforcement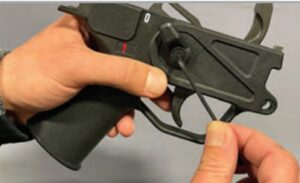 A clean gun will operate reliably and will encounter fewer problems associated with feeding, firing, and extraction. Moreover, a clean gun will hold its value better and will be less subject to the ravages of corrosion over the long term. You know well the importance of keeping your bolt carrier group and barrel clean. What
Read More »
Congratulations: You just got a brand new MP5 magazine (or better yet, a bunch) and are ready to hit the range and get shooting. With a bunch of new mags, you won't have to reload as frequently, which means you can spend more of your time shooting and less time loading. But did you know
Read More »
Call it a suppressor, a silencer, or a can, it's the same thing – and one of the most common questions about our American-made MP5 is "Can you shoot the ZF-5 with a suppressor?" Good news: provided you have secured the proper paperwork/permits/legal prerequisites, yes, you can shoot the ZF-5 with a suppressor. Here's what
Read More »
The Zenith Firearms ZF-5 is the MP5 subgun-inspired, American-made, semi-automatic variant you've been looking for. It captures all of the best features of the MP5, including its roller-delayed blowback action, threaded barrel (compatible with flash hiders and other muzzle devices), and low-recoil operation. It also sports a mil-spec 4150 CMV cold hammer-forged barrel and comes with a limited lifetime warranty.
The smooth-shooting ZF-5 also preserves the pistol caliber of the MP5 submachine gun and is built around the 9mm Parabellum cartridge. In addition to these American-made MP5-style semi-auto platforms, we also carry magazines, slings, cases, and other MP5 parts and accessories.